Managing field workers without software is hard.
As a manager, the frustration of manually tracking your worker's whereabouts is a daily struggle. You need to know when your workers are en route to jobs, be able to contact them seamlessly, know when they have completed jobs, and see the booked capacity of their calendar.
Usually manages patch together, namely Google Calendar, Whatsapp, VoIP Calling, GPS tracking services, and a job scheduler tool.
This is not efficient and relies on workers and admin to be on top of their game daily.
Field employee tracking software like fieldd removes the manual back and forth, giving you the confidence that you know where your staff is and the status of their jobs at all times.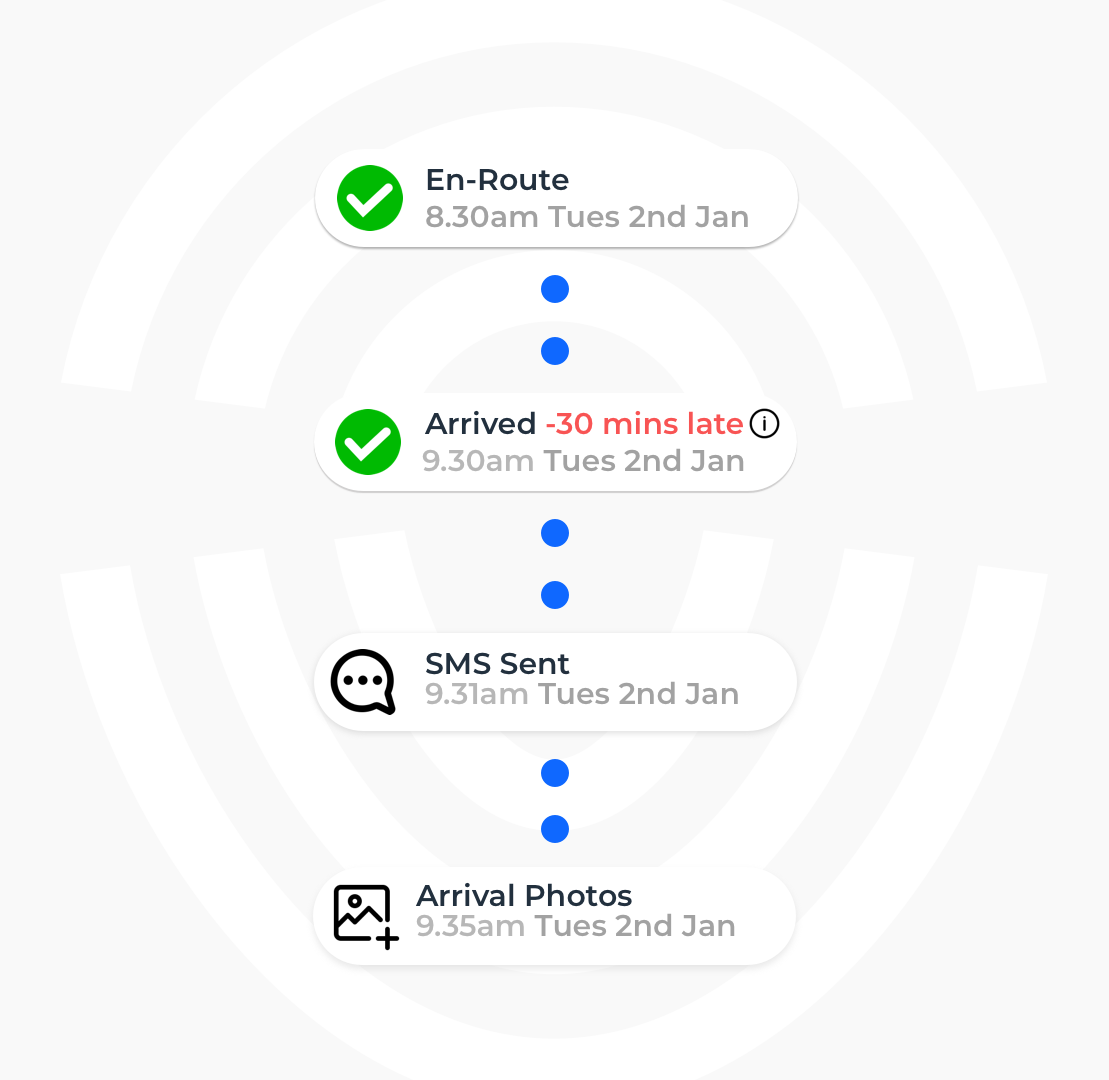 Field Employee Tracking Software Top Features
Tracking tools allow you to run at an optimal level, with a quarter of the work. Fieldd boats the following 5 live without features:
Using fieldd you can confidently sit back knowing live tracking links are shared with your customers.  As a manager, see when your workers started a job, how long it took them to get to the job, and when the job was completed. 
Workers can in-app message admin and customers. Removing phone tag and group messages not tied to a job.
3. Quality Control Images
You want employee tracking software because you expect high-quality work. Use fieldd's quality control images to take before and after pictures of the job, and use in-app markup tools to spot future potential issues. Quality control images sync live to you and your customers.
 See where your workers last opened their app and track their route to the job.
See when your staff arrive at the job. Seeing if your staff are on time allows you to plan service areas for efficient travel times.
Having live updates like the features above ensures you know where your staff is. It also gives you the tools you need to handle customer complaints immediately.
How Do Employee Tracking Tools Aid Customer Service?
A lot of your job as a manager is to ensure customer satisfaction. Without tracking tools, customers rely on the business admin to keep them informed. Customers want to know where the worker is and when they will arrive. Without software to see this, they revert to phone calls and Whatsapp messages.
By giving your workers employee tracking software tools, you are also improving your customer experience.
In comparison, the software can also aid your customer dispute process. Out of 100 customers, you will always have one who is not happy. Often, it is for things such as arriving late, not answering the phone, or claims that a job was completed poorly.
Fieldd's features ensure you have all the information you need to combat these complaints and protect your brand.
In summary, if you struggle to manage daily job tasks, you need to start using fieldd! Your workers, customers, and admin will benefit from live updates. Allowing your workers to be more efficient,  your admin to focus on other things, and customers to self-serve. Experience the
fieldd
difference today!