Effortlessly manage customers & workers
Our CRM makes it easy to manage all your services in one place. Keep track of every job, respond to customer messages quickly, and track your workers' performance.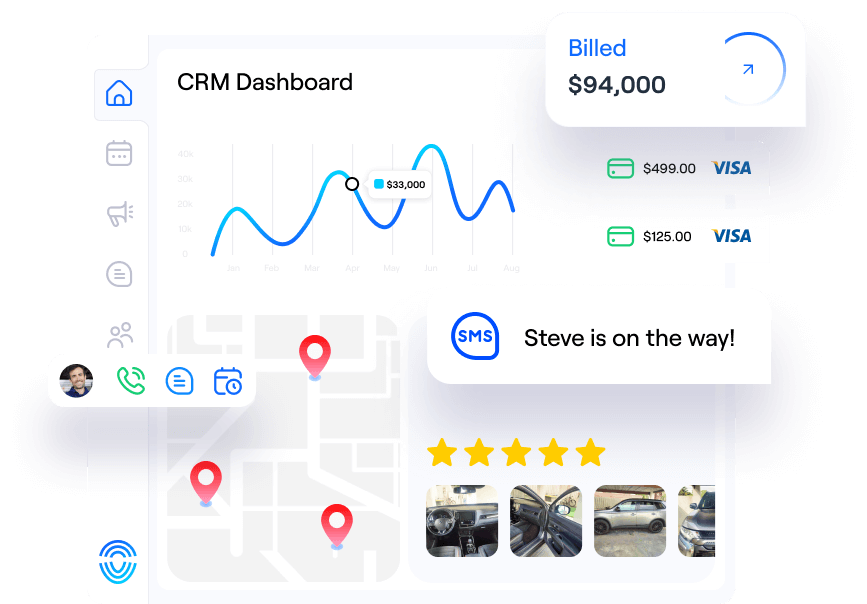 Our field service CRM is the key to keeping your customers happy and your staff on track.
Fieldd's CRM helps businesses to manage their work in one place. You can see what jobs are scheduled for the day and track progress in real-time.
Within the CRM, you can also add important notes and details to each job, which sync to workers in their Fieldd app. If staff runs late or need help finding the job, you can live chat with customers and staff.
After completing the jobs, they are saved to the customer and worker profiles. It shows when the worker arrived and completed the job and what feedback and rating the customer gave. With Fieldd's CRM, you can be sure that jobs are completed on time and to the best standard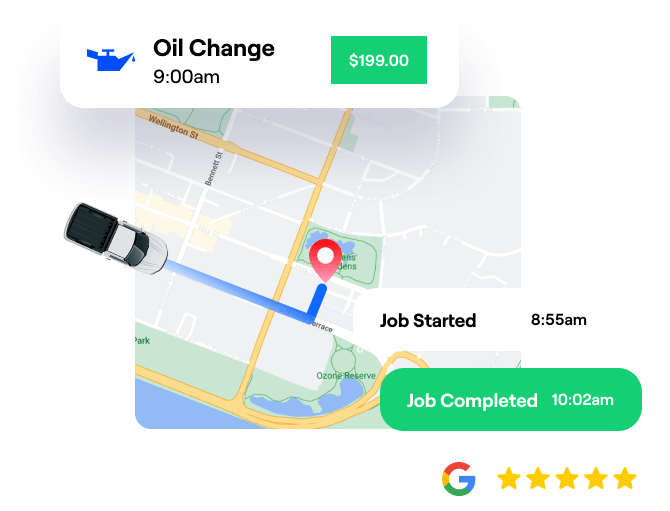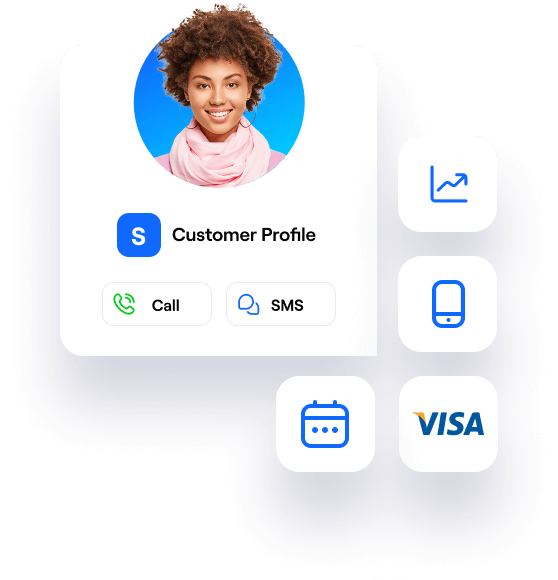 STAY CONNECTED WITH YOUR CUSTOMERS
Say goodbye to the old way of searching through lots of paper or spreadsheets to find customer details. View all your customer details, job history, and payment history in one central location with Fieldd's CRM.

With all this information at your fingertips, you'll have a better understanding of your customer's needs. Plus, with our SMS marketing feature, you can send targeted promotions and updates directly to your customers' phones.
KEEP WORKERS ON TIME AND ON TASK
Fieldd's worker management makes managing your team and jobs a breeze. We optimize your worker's calendars to reduce travel time between jobs and maximize their efficiency. Our auto-dispatch system automatically assigns jobs to the most suitable workers, saving you time and effort.

With instant push notifications sent to your worker's app, they'll never miss a job. You can also check customer messages and limit worker conversations to set responses. Track your workers' location and view photos, checklists, and signatures from each job. And, with just one click, you can send messages to your entire team.

Fieldd's CRM keeps your team in sync, working together, whilst providing top-notch service to your clients.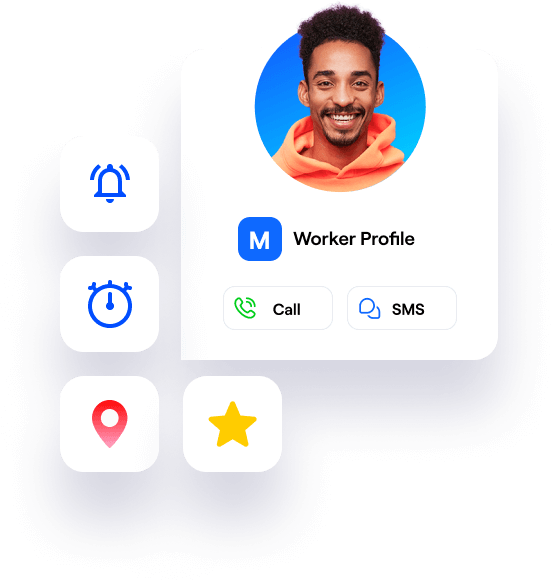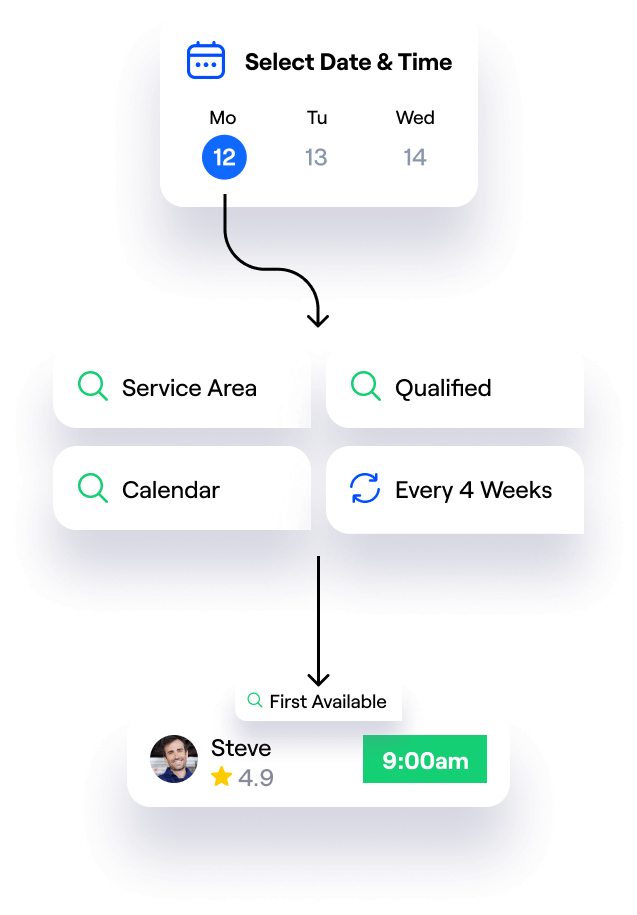 Auto Scheduling & Dispatch
Fieldd's advanced scheduling takes the hassle out of dispatching workers. Now you can sit back and watch as your workers are auto scheduled with amazing accuracy. But don't worry, you can still make changes or manually schedule anything you need to.
Fieldd makes scheduling jobs easy with recurring bookings that avoid double bookings. It only schedules jobs within a specific area, so your workers don't have to travel too far between jobs. Plus, our schedule engine auto optimizes your calendar so you can fit in more jobs each day.
Experience the convenience of Fieldd's advanced scheduling feature today!
Manage your finances more efficiently
Fieldd's digital invoices are a game-changer for services. Now you can easily create and send invoices to your customers from you computer or, mobile app. You can also make your invoices look more professional by adding your own logos and branding.
The CRM sends an sms and email, alerting customers of new invoices. They can be paid instantly online via card, saving a lengthy invoicing process. Invoicing history us kept in one place, so you can find and review invoices anytime.
Fieldd's digital invoices are super helpful because they auto-follow up unpaid invoices. And, update the job to "paid" once it's your customers pay in full. With fieldd, managing invoices has never been easier.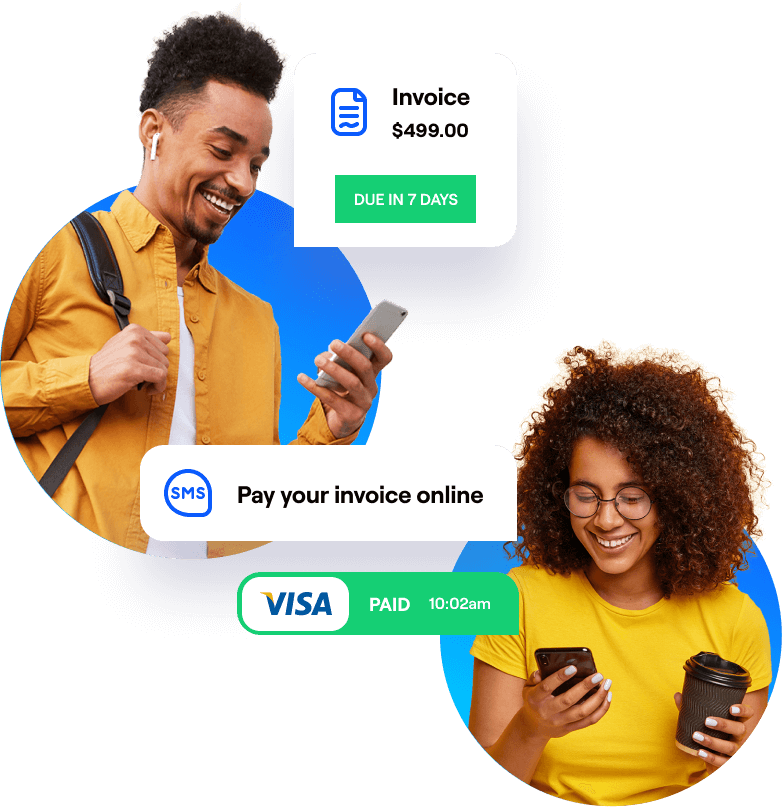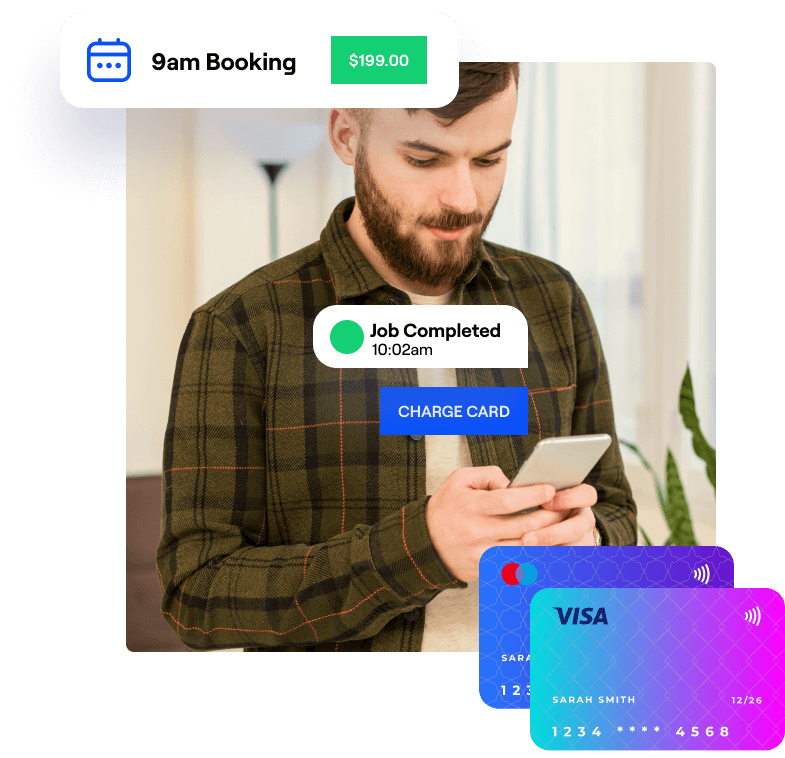 SAVE HOURS MATCHING JOBS TO PAYMENTS
Other software requires separate payment tools, but Fieldd makes it easier by having everything in one place. Fieldd combines field service software, scheduling and payment processing into one easy-to-use platform.
Fieldd's all-in-one approach makes it easier and faster for services to accept payments. Businesses can save time and reduce the risk of late payments by auto charging cards on file. Customers can save their payment information online for easier future payments.
With Fieldd's payment processing, businesses save hours each day with auto-matching. This means you no longer need to spend hours matching payments to scheduled jobs.
GROW YOUR COMPANY WITH FIELDD
With Fieldd, businesses can create and send targeted marketing campaigns from their CRM Dashboard. This powerful tool allows businesses to sync customers into the CRM, creating custom lists with a few clicks. Custom lists make sending targeted campaigns based on customer activity or location, easy. Fieldd's Marketing campaigns improve customer engagement, increase sales, and ultimately grow your business.
Send bulk SMS marketing campaigns. SMS marketing has the highest open rate compared to any other type of marketing campaign.
Fieldd's QR Codes make scheduling faster and more personalized. When scanned, they remember customer addresses and profiles, directing them to re-book online.
Fieldd's branded mobile customer app, businesses can send push notifications with promotional images. Push notifications are a great way to keep customers informed of promotions and new services.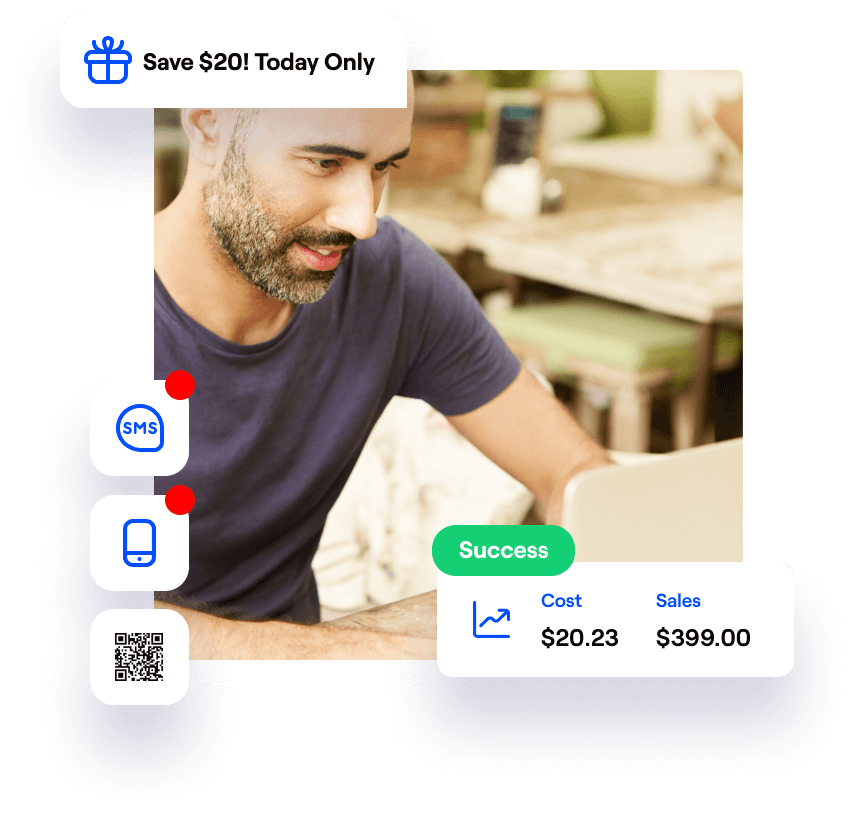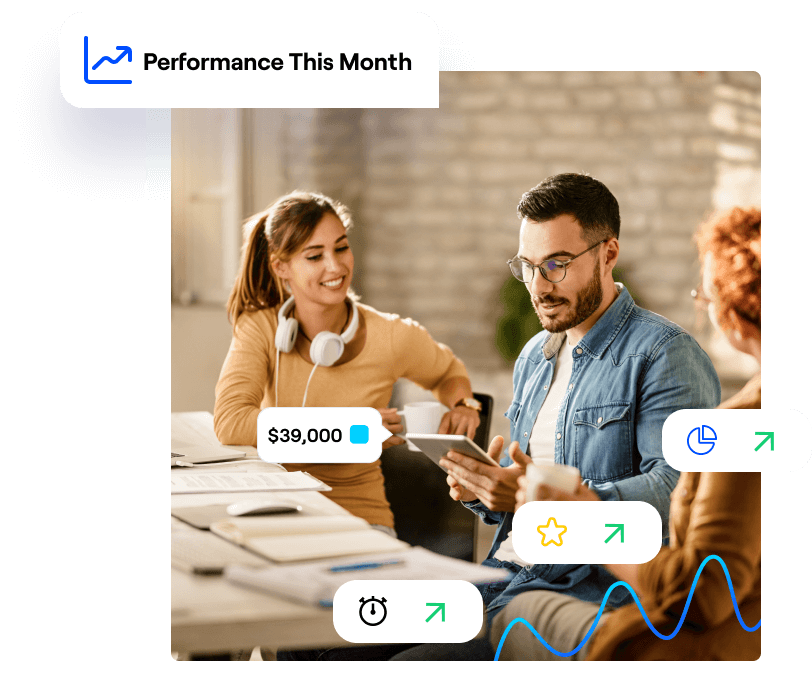 GAIN VALUABLE INSIGHTS INTO YOUR BUSINESS
Learn important details about your business in real-time with Fieldd's Reporting feature. Reports track key performance indicators such as revenue, customer satisfaction, and on-time arrivals.
Customize your own reports to fit your business needs. Pin these reports to your dashboard so you can quickly see how your business is performing. Fieldd keeps your reports updated in real-time, so you can stay on top of your business with ease.
Data-driven decision-making will find areas for improvement and help plan for the future. With a better understanding of your business, you will achieve your goals faster.
INCREASE CUSTOMER LOYALTY & REPEAT BUSINESS
Quality Control is essential for businesses to maintain customer satisfaction. Fieldd's Quality Control ensures you deliver consistent, high-quality service to your customers.
Detailed time tracking monitors every aspect of the job, including arrival, completion, and travel time. Now, your workers will always be on time and on task. Job photo galleries capture before and after photos. These high quality images with markups provide you with a visual record of every job.
Our customer feedback and ratings system collects valuable insights into job quality. Fieldd sends low rating alerts, so you can address issues faster. And, customer signatures and checklists provide added accountability.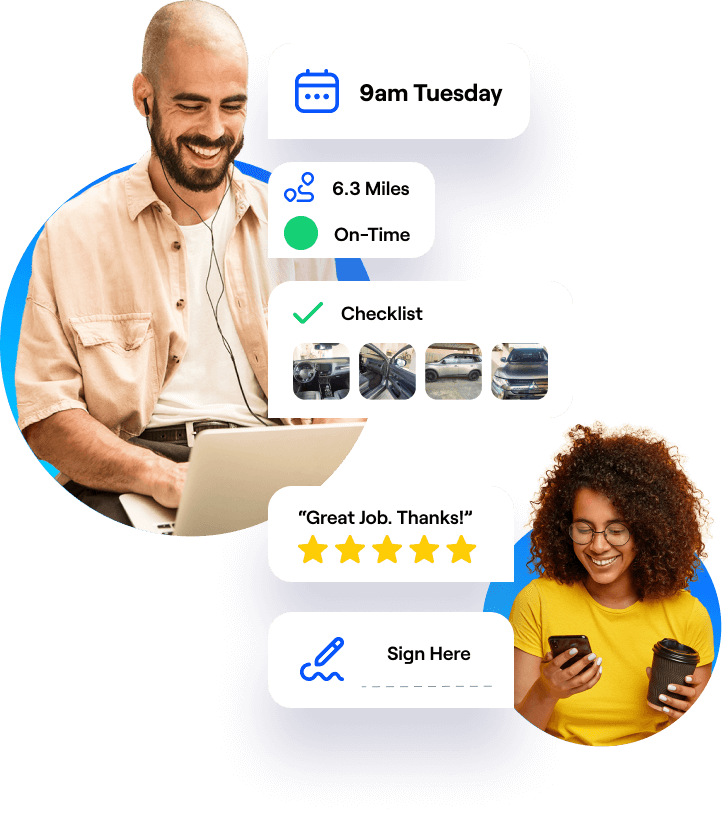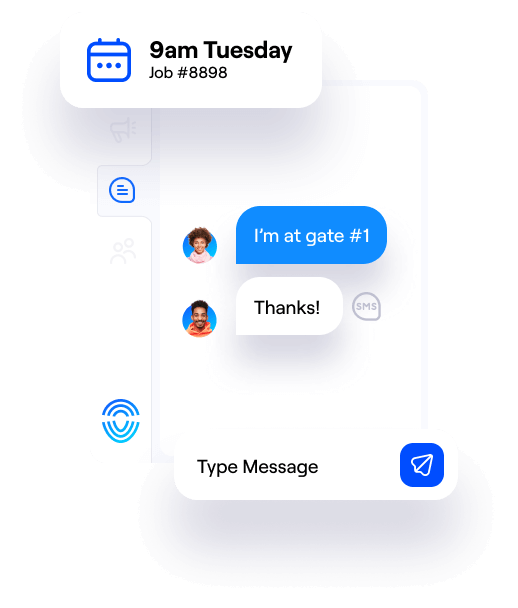 Fieldd's live chat feature creates seamless communication between businesses, workers, and customers. With unique live chats created for every job, admin staff can easily monitor and jump into conversations as needed.
Admin can also chat one on one with customers via SMS, providing a direct line of communication for any questions or concerns. Fieldd's broadcast feature lets you quickly send messages and photos to all workers. They'll get alerts on their mobile devices, so they won't miss important messages.
Stay connected with Fieldd's live chat feature and provide exceptional customer service every step of the way.
Fieldd's CRM is fully customizable to fit your unique business needs.
CUSTOMIZE MESSAGING TO YOUR BRAND
At Fieldd, we give your business the power to customize the communication with your workers and customers. You can choose what information to send, how often to send it, and through which avenue to send it.
For instance, you can send a push notification to your workers reminding them of their upcoming shift. And, a SMS to customers reminding them of their scheduled appointment.
Our customization allows you to use wording and language that resonates with your audience. This personalization helps strengthen relationships and boost customer loyalty.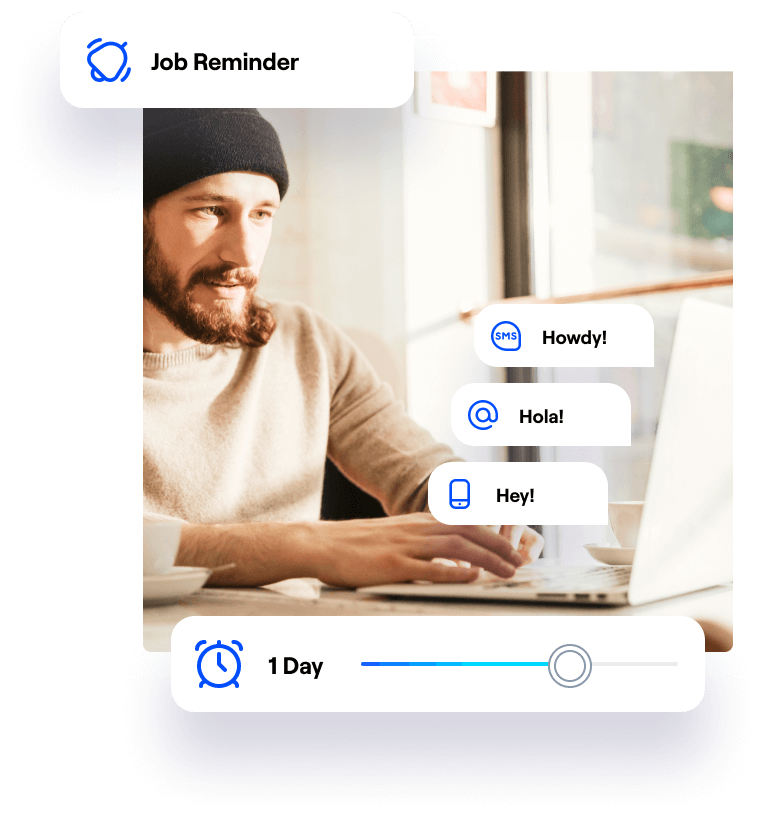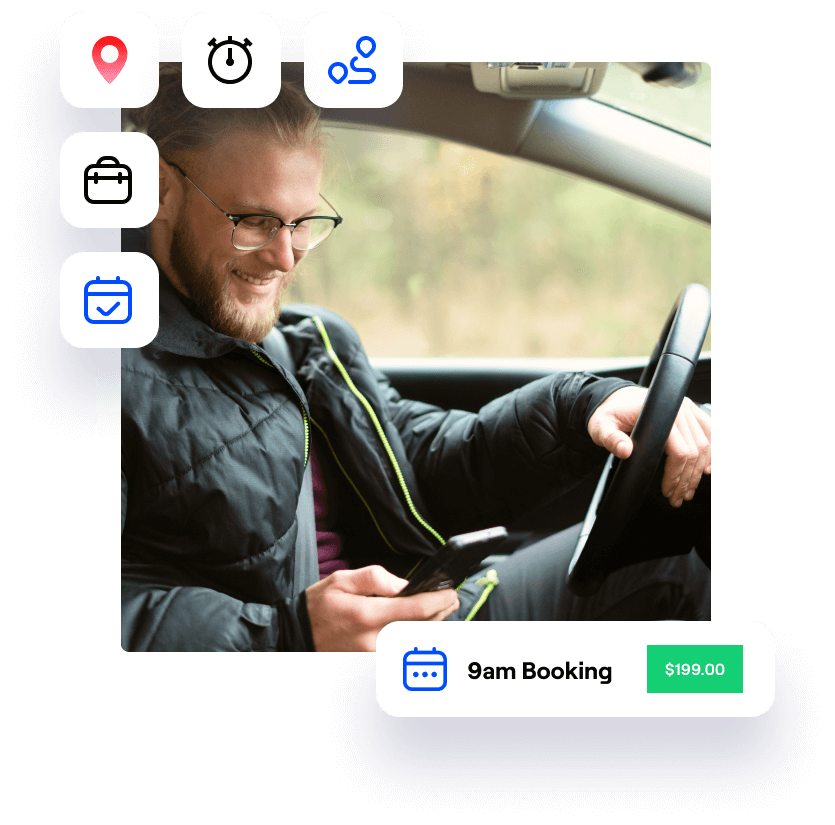 Fieldd's customizable scheduling is revolutionary feature for field service companies. Even the most challenging scheduling scenarios can be handled with ease using fieldd.
Using fieldd, you can quickly create and customize your services. The system considers all possible scenarios, allowing you to schedule services online or within the CRM in a few clicks. To avoid errors in pricing and scheduling, complex pricing, travel time and travel charges are also handled.
Jobs are auto dispatched with the same precision as a live phone dispatcher. So your team will always be assigned to the right job at the right time, in the right location. Without double bookings!
Customers can be auto-matched with nearby staff thanks to our unique location-based feature. By collecting the customer's address, fieldd quickly determines which service area they are in.
To reduce travel costs, customers are matched with the nearest available staff member. Larger service companies can manage multiple cities and service areas within one system.
Fieldd uses special logic to build service areas, which limits the travel time for each job. This ensures staff members arrive on time, have less downtime, and are never double booked.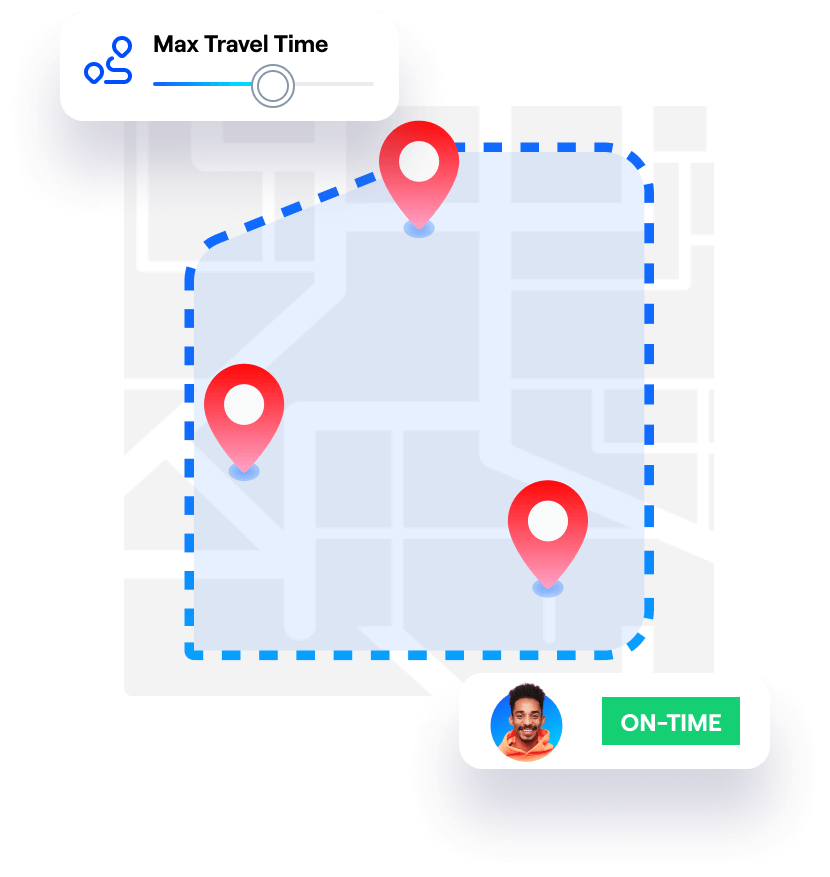 With the help of fieldd we've gone from having 70 appointments a month to more than 500 a month in less than a year, the customer app is very interactive and easy to use.

We tried lots of scheduling software before we found fieldd. Our staff struggled to arrive on time, and the booking windows other software offered, were inconvenient to our customers. Fieldd launched us to the next level.

Fieldd by far has the best platform and customer service of any software I've used. Fieldd is extremely helpful in staying organized our on-demand snow removal business.

Fieldd has totally transformed our business from a 'mom and pop' operation into the most popular mobile detailer in TN. Fieldd makes booking online so easy for our customers that we literally don't have to answer the phone anymore.

It's time to get started with fieldd. The #1 Field Service CRM.