INTUITIVE HOME SERVICE SCHEDULING SOFTWARE
Online Scheduling Built for Home Services
Fieldd's online scheduling software simplifies home service scheduling, boosts job sales, and ensures 100% dispatch accuracy – even when you're asleep.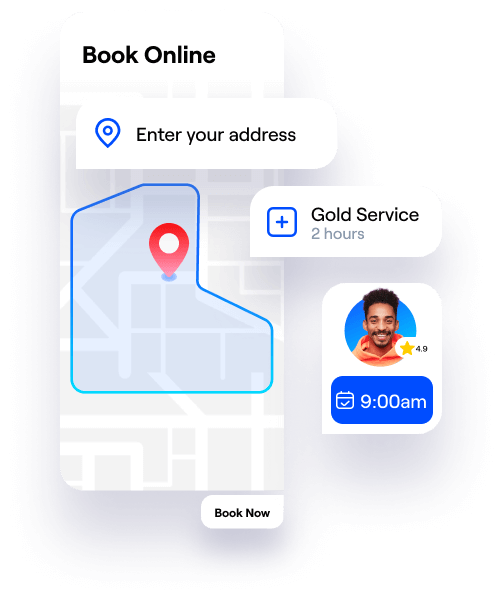 Which services use Online Scheduling?
Your customers rely on you to deliver services to their doorstep, often with variations in location, time, and pricing.
Real Estate Photographers
Your customers visit a physical shop or book a mobile service. Services varies between mobile & shop services.
Your customers need you to travel between two locations. Pricing varies depending on the type of service and the distance traveled.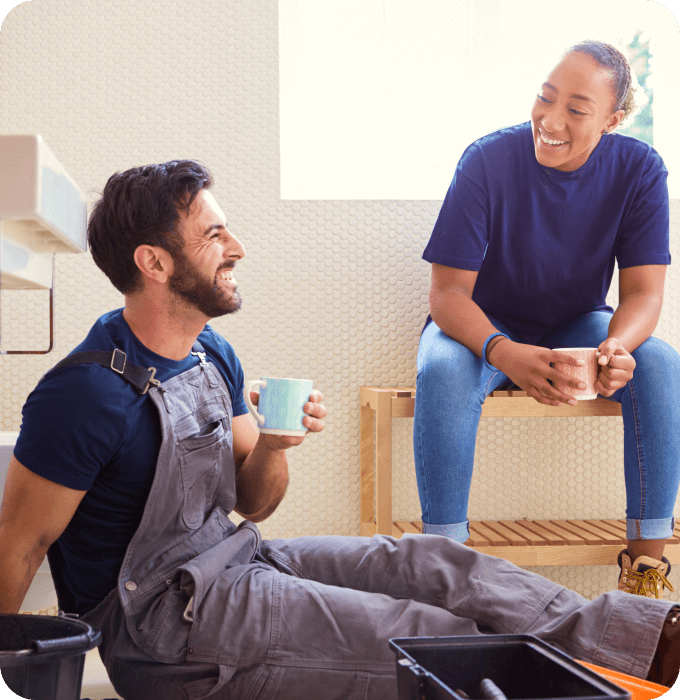 Unlock
Time

With Online Scheduling
Say goodbye to tedious scheduling and hello to more time to focus on growing your business. With pre-built templates, you can quickly set up your account and get started right away.
Capture every job opportunity, even after hours and while you sleep
94% of customers prefer online scheduling over phone calls.
INTRODUCING FIELDD'S EXCLUSIVE
Online Scheduling Formula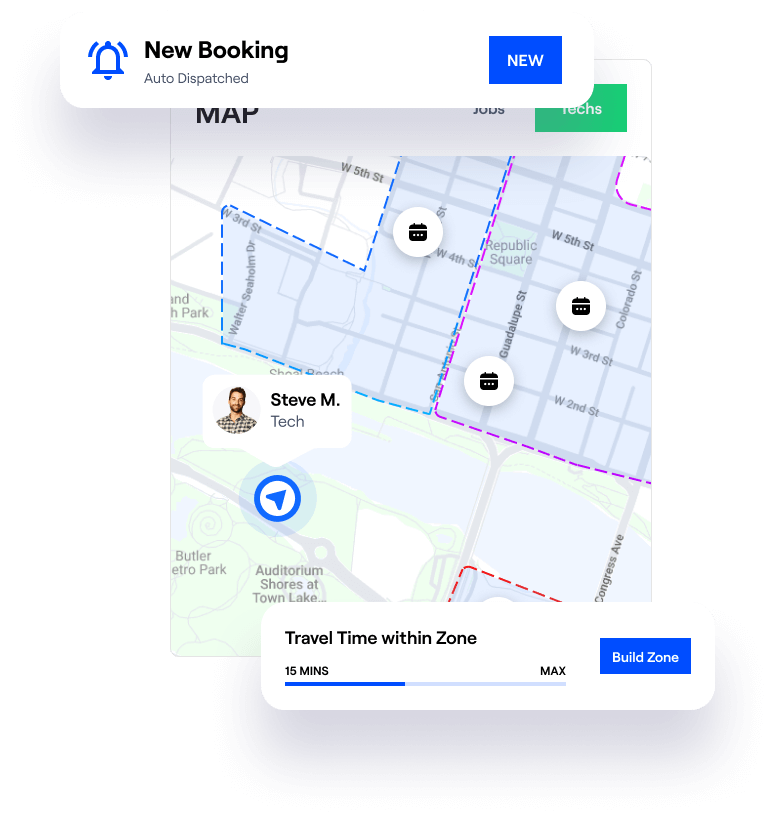 ENSURE CUSTOMERS ARE NEARBY
If you're in California, and a customer enters an address in New York, you have a problem. Before checking your calendar for availability, fieldd verifies if the customer is in your service area.
Build accurate service areas using insights from one-way streets, highways, and traffic lights. Our advanced service areas stop workers from servicing areas too large or too small. This is a common issue with zip code service areas which results in longer drive times.
Franchises can delegate local or national territories with ease within the fieldd CRM.
Service + Extras + Travel Time
When customers call, dispatchers estimate how much time services and upgrades will take. Extra time is added for travel so field service workers between jobs so they remain on time.
When customers schedule online, fieldd automatically calculates accurate service durations. To increase fieldd's accuracy, each service can be customized.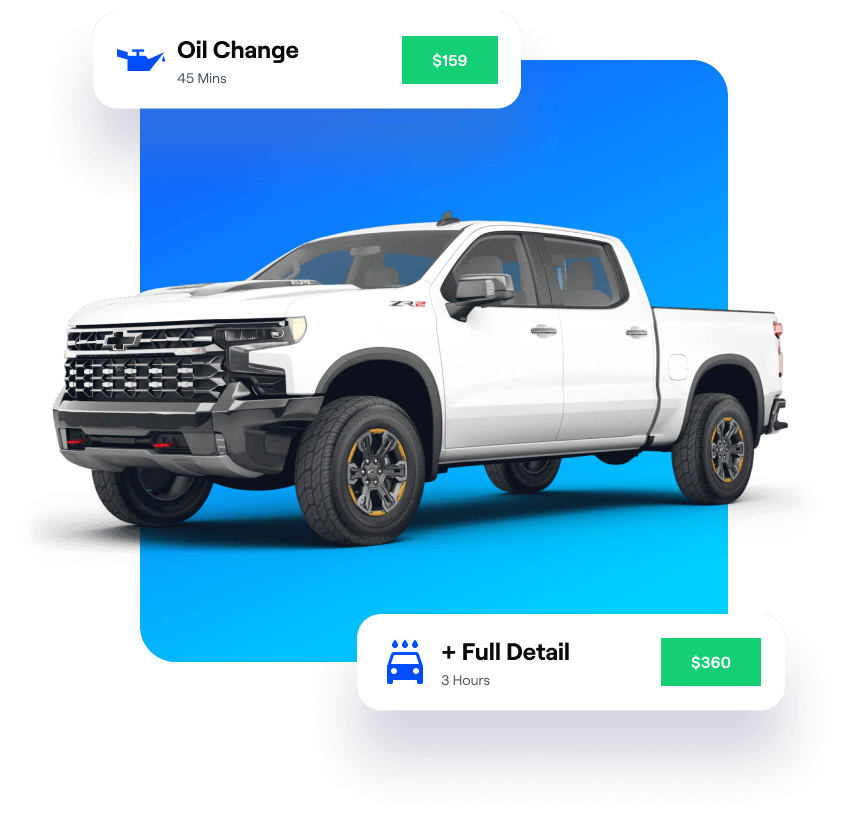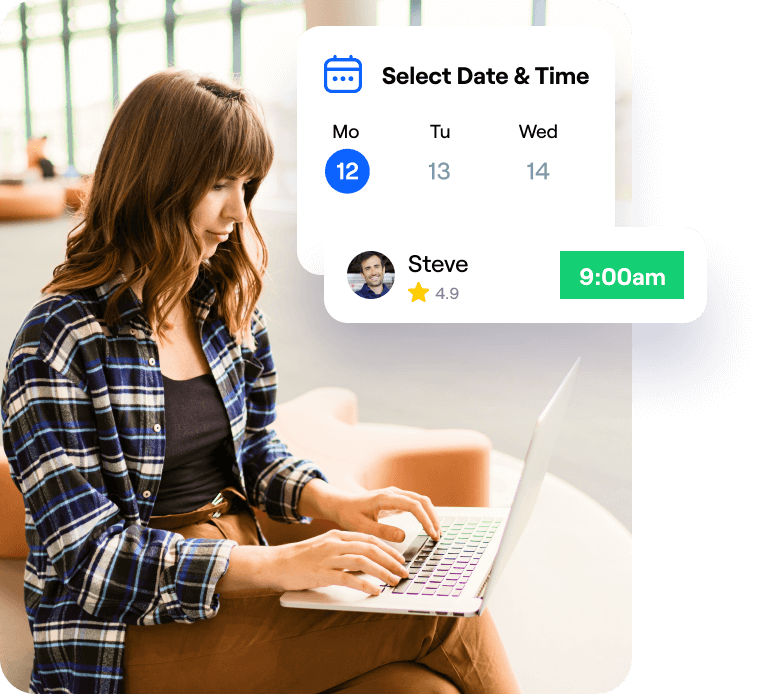 Jobs in your Google Calendar will automatically sync into fieldd. Jobs in fieldd will automatically sync into Google Calendar.
This two-way sync guarantees the online availability of your field service technicians is accurate.
SAVE TIME UPDATING CUSTOMERS
Real-Time Online Updates & Live GPS Tracking
Improve your field service operations and customer service with fieldd's real-time updates. Your customers can track jobs live, without the need for constant phone calls, saving your team hours each day.

Real-time updates provide transparency between your team and customers. This feature informs customers of job statuses, notes, and photos in real time. This feature ensures that your customers are always satisfied, increasing loyalty.

Make your field service operations more efficient, reliable, and customer-centric with fieldd.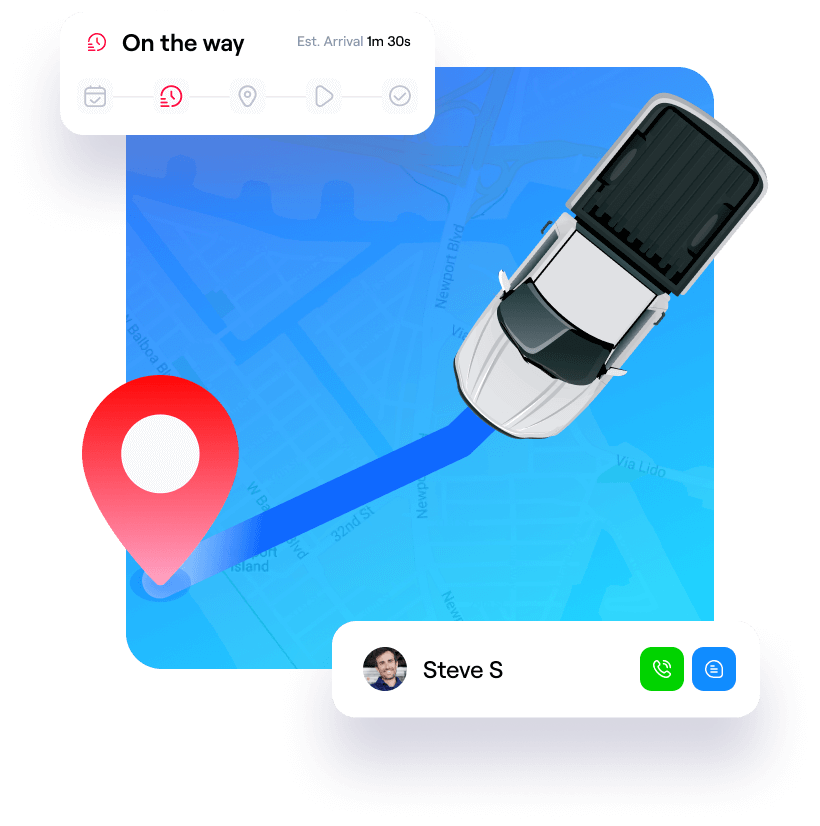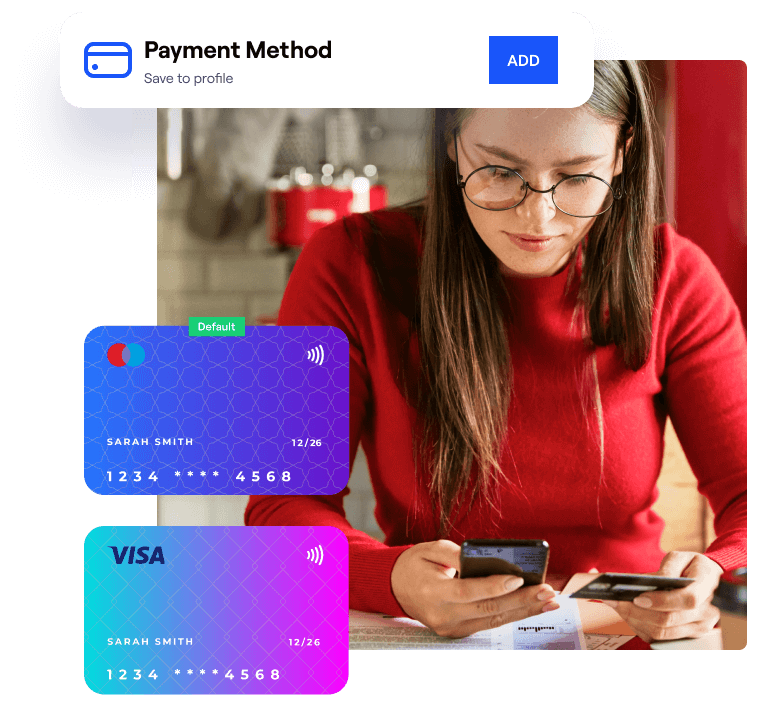 Save Time and Boost Cash Flow
With fieldd, customers can add, and save their credit cards to their online profiles. This convenient feature saves time by reducing the need to enter payment information every time they book a service.

Charging your customers' cards is easy and convenient, without the need for in-person payment. This simplifies the payment process for everyone involved.

By saving customer credit cards on file, you can avoid the hassle of late payments and unpaid invoices, boosting your cash flow. With faster payments, you improve customer loyalty and generate more business.
Fieldd's auto dispatch makes scheduling and dispatching a breeze. With auto dispatch, your jobs are auto assigned to the right technician based on their location, skills and availability. Auto dispatch saves company time, and increases the customer experience.

With fieldd's calendar sync, your team's availability syncs in real-time. This ensures that you're only dispatching jobs when your team is available. This feature prevents double-booking and missed appointments, improving the reliability of your business.

By automating dispatch, you will reduce manual errors and improve your team's productivity. This means your team can complete more jobs in less time, boosting your bottom line.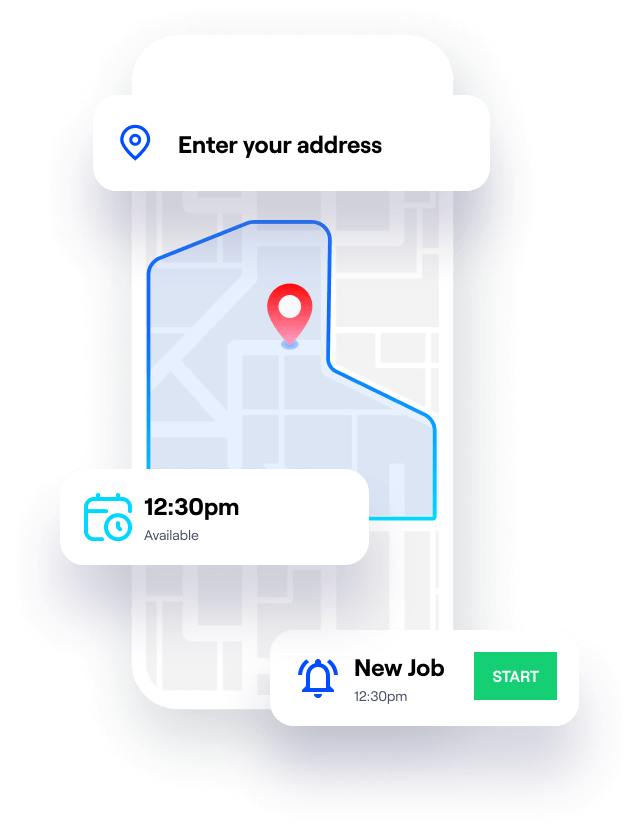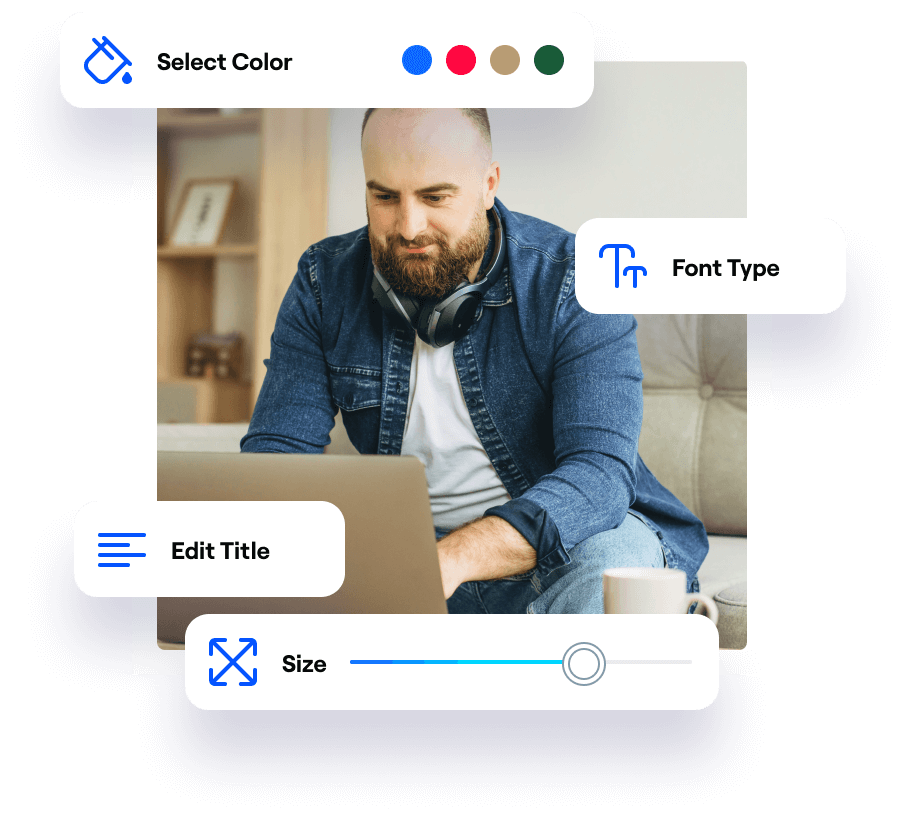 TAILOR FIELDD TO YOUR BRAND
Fully Customizable Online Scheduling
With the ability to fully customize your online scheduling page, you can tailor your booking page to your needs.

You can customize everything from your booking page's color scheme and logos to the questions when customers book. Whether you need to change the duration of each service, or add custom fields, the possibilities are endless.

By collecting all the necessary information you need, you'll get the job done right the first time. It will also make it easier for you to manage your team's workload and avoid overbooking.

With a tailored, professional booking experience, you'll build a loyal customer base and stand out from the competition.
Fieldd's live job chat is a must-have feature for field services. This handy tool allows workers and customers to talk quickly and easily in real-time.

When customers receive SMS alerts, they can communicate with workers in an exclusive live chat room created for the job.

Now customers can get answers to their questions right away, without needing to spend time making phone calls or sending emails. Workers can share photos, making it easier to keep customers informed about the job's progress.

Live job chat saves time, improves customer satisfaction, and might even lead to more business referrals.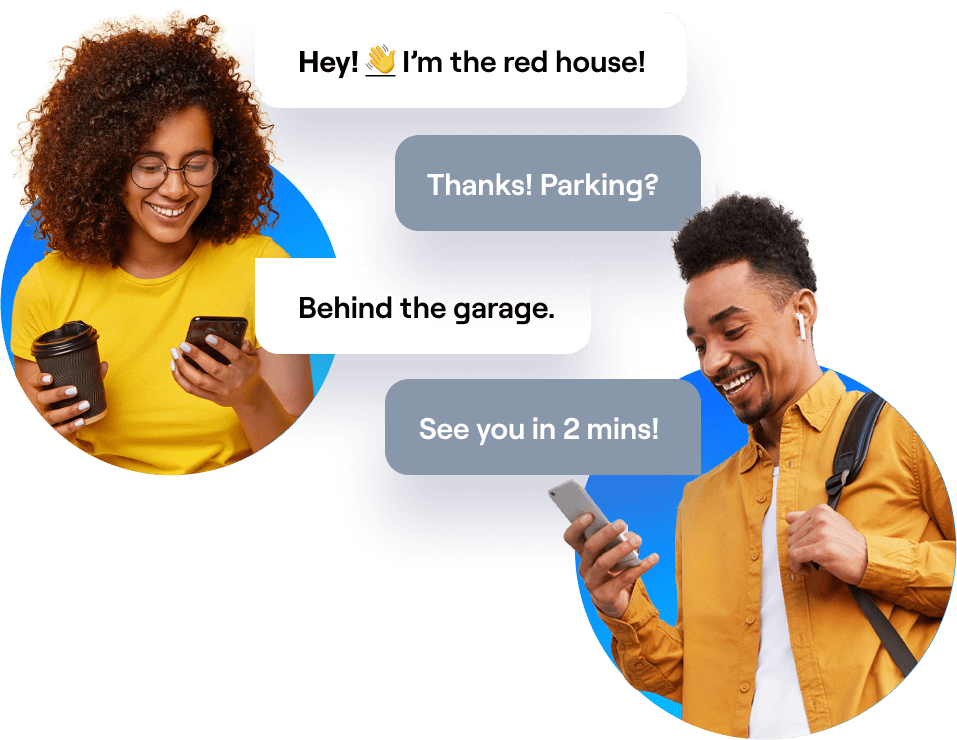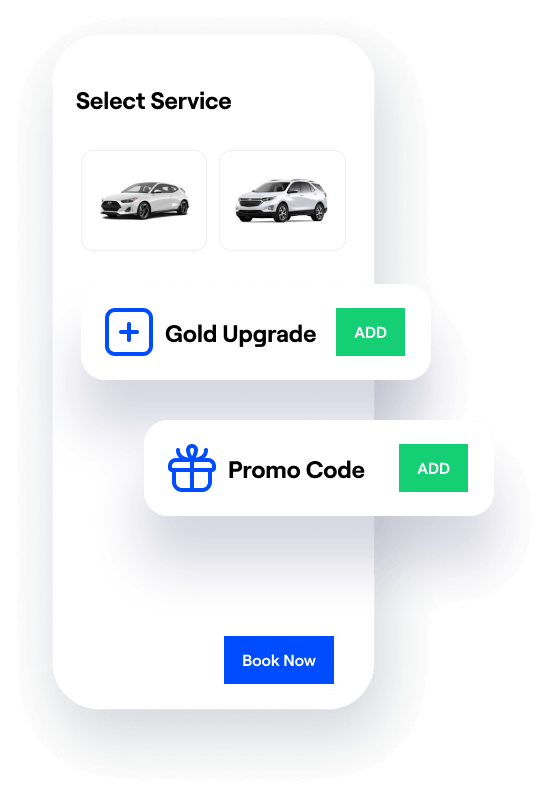 When customers book your services online through fieldd, they get a customized experience. Fieldd recommends add-ons that complement the services your customers are requesting. This feature meets the customer's exact needs, whilst boosting your company revenue.

Customers booking services online can take advantage of special discounts only available online. By providing these discounts, Fieldd helps to incentivize customers to book online. This resulting in increased revenue and customer loyalty for your business.
NO MORE APPOINTMENT NO-SHOWS
With Fieldd, companies can take full control of their services by customizing pre-payment options. You have the choice to opt for either full or partial pre-payment, based on what works best for your business needs.

Online pre-payment is an excellent solution that saves both time and money. By reducing no-shows and cancellations, it ensures a smoother experience for everyone. Plus, it offers your customers a convenient and secure way to pay in advance, storing their card on file for later.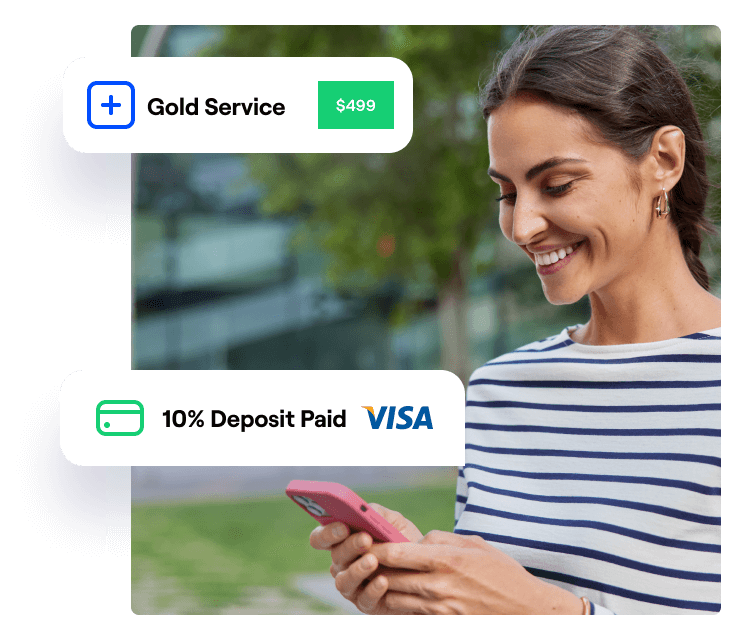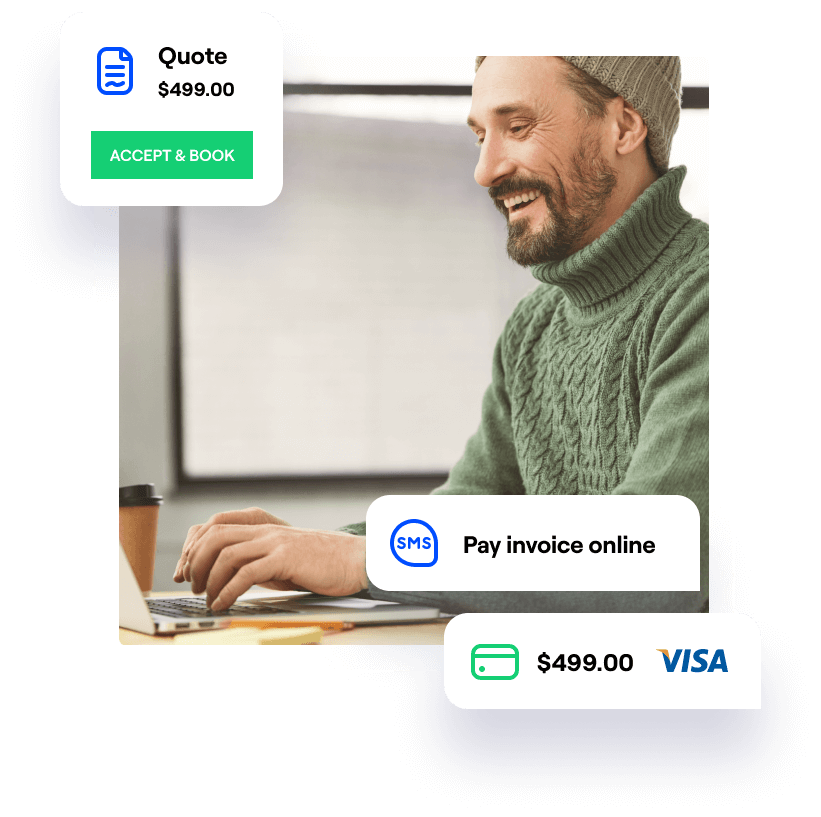 REDUCE PAPERWORK, BOOST CASHFLOW
Use Fieldd's online quote and invoice feature to make scheduling and paying for jobs simple! Get quotes instantly via SMS and accept and book online.

Invoices are also alerted via SMS and can be paid online, with the option to add tips. Try Fieldd today and make your job scheduling and invoicing a breeze!
Fieldd's rating filter is a powerful tool that will boost your online reputation. Our software asks customers to rate the services they receive, and if the rating is good, they're prompted to leave a review on Google or Facebook. This way, happy customers share their positive experience, boosting your online reputation.

But, if a customer leaves a low rating, the review is filtered, and they are not shown the link to leave a review on Google or Facebook. This way, you can handle negative reviews internally, without affecting your online reputation.

Boost your business reputation and attract new customers today!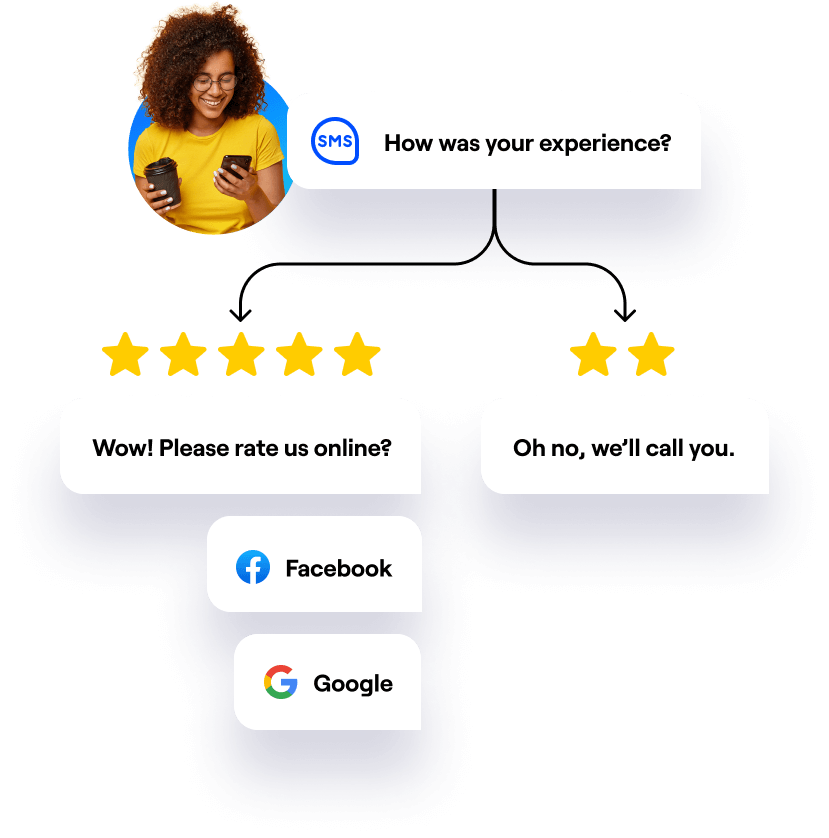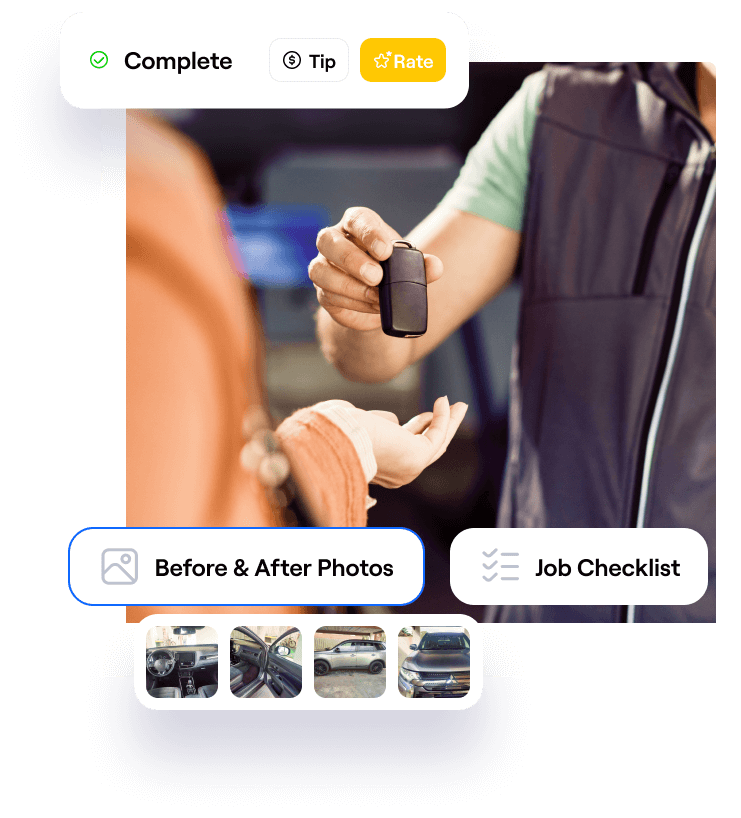 BOOST CUSTOMER CONFIDENCE
Fieldd's job reports are amazing for both customers and your service. Before and after photos give everyone visual proof of a job well done. Checklists help customers see they received the best service, without picking up the phone.

For businesses, this feature makes communication much easier, saves time, and reduces paperwork. Job reports are automated for each job and available online 24/7 for both parties.

Plus, customers can leave feedback, tips, and rate their experience. This boosts revenue and creates valuable data to improve your service.
Online Scheduling Software that understands services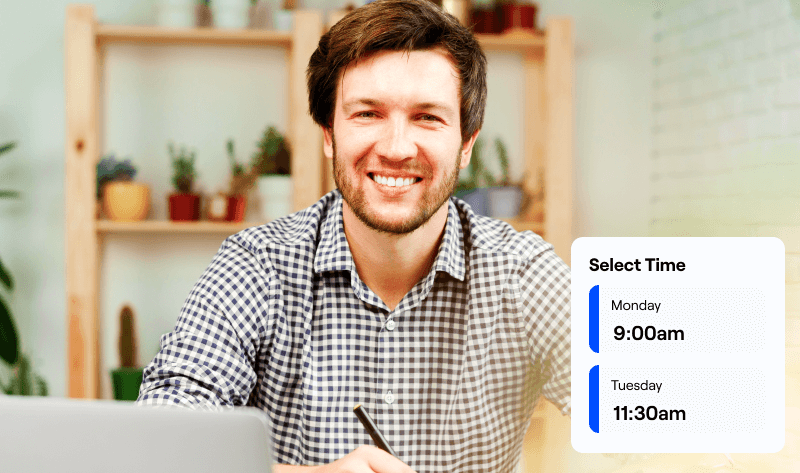 Fieldd optimizes your calendars to maximize your daily schedule.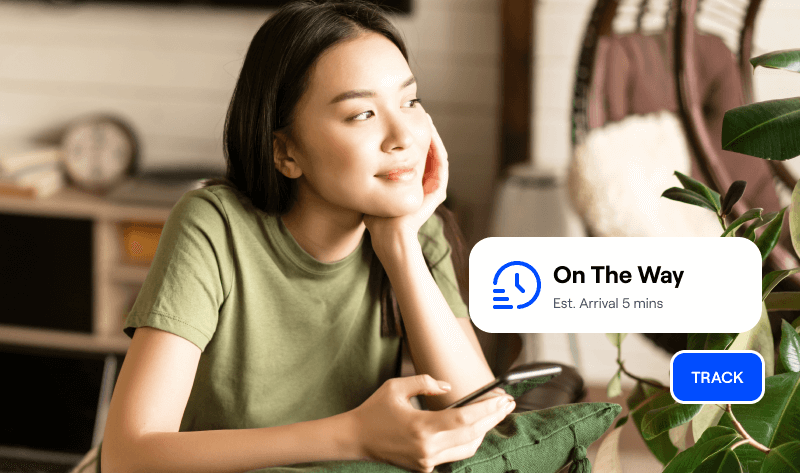 Deliver a memorable service by eliminating costly and inconvenient arrival windows.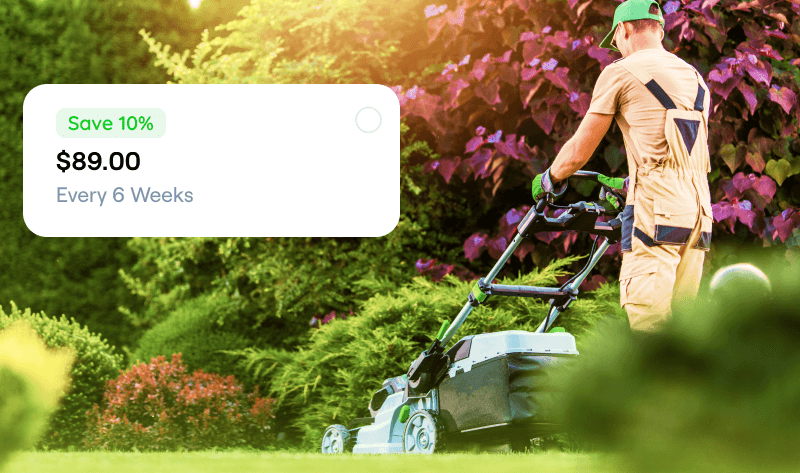 Offer custom discounts when customers self-schedule recurring services.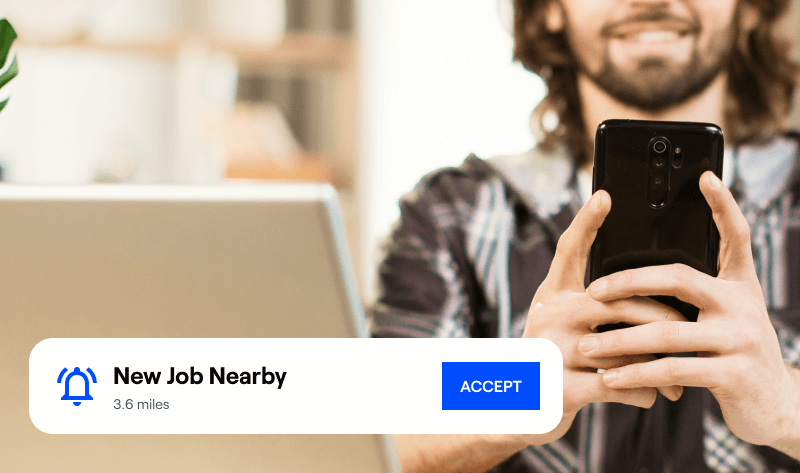 Urgent job alerts are sent directly to your worker's mobile apps for them to accept (just like Uber!).
CUSTOM BRANDED MOBILE APPS
Take your brand to the next level with a custom-branded booking app.  Listed in the app stores on iOS & Android, your business will be the talk of the town.
Customize, design and order your branded app within the fieldd CRM. In 30 days, your app will be live for download.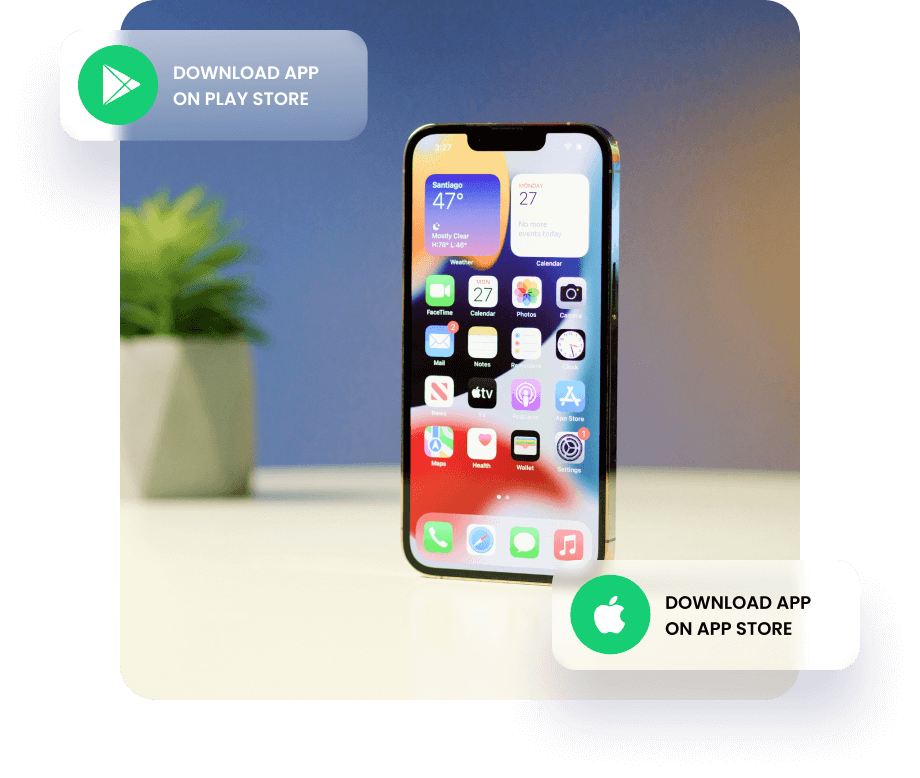 It's time to get started with fieldd. The #1 Online Scheduling Software for Home Services.