We unlock extra productivity by automating your scheduling, dispatch and payments.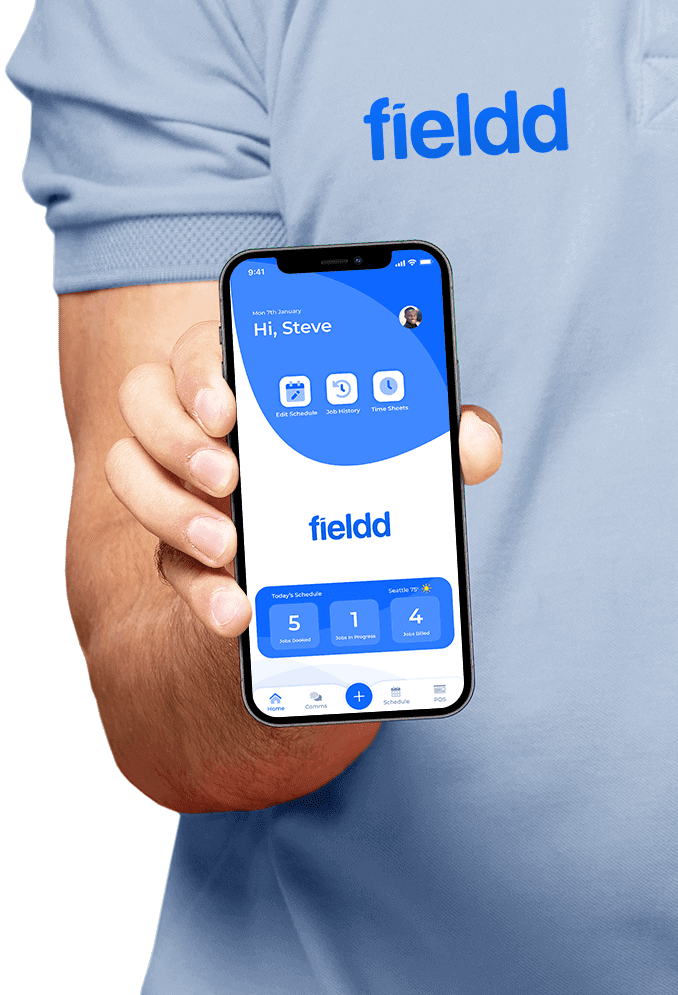 We unlock extra productivity by automating your scheduling, dispatch and payments.
must haves
for ambitious service companies
Train fieldd to be your
best

scheduler.
Build service areas in the fieldd CRM with accurate travel time to ensure your staff always arrive on time and never run behind schedule.
Add time and prices to your products and services so your customers can book your staff online within your service areas.
Prepare to receive
more

jobs.
Since fieldd understands where your staff are based, how long your jobs take, and what you charge, fieldd can now suggest the perfect availability to your customers.
Our Online Booking Portal supports payments, customer profiles, messaging and live job tracking.  Customize and brand your Online Booking experience instantly via the fieldd CRM.
Let's Book
a Mobile Car Detail
a Removalist
a Locksmith
a Cleaner
a Home Inspection
110 Roe Street, Northbridge
Advanced

Scheduling for Field Service Companies
3. Automatic Job Dispatching
Give your staff an
exciting

new tool.
Once a job is booked, your staff will receive instant push notifications and all the details of the job in a digital job card.
Eliminate paperwork, an unlock extra productivity by combining payments, staff calendars, job sheets and messaging in one app.
Our field service management app is an essential iOS & Android App that your staff will not be able to live without.
4. In-App & Online Payments
Accept payments & get paid
faster.
Once jobs are complete, your staff can accept payments without hardware in the field via the Service App. Fieldd integrates with 5 of the top payment providers allowing your staff to take payments easier and faster.
Customers can also pre-pay or part-pay when booking online, or once the job is complete click a link to pay outstanding invoices online. Admin staff can also accept payments via the fieldd CRM.
Fieldd clearly displays any outstanding payments, and auto reconciles jobs to payments saving you team endless hours chasing and matching payments to jobs.
Enforce a
higher

quality service.
As soon as your customers open load your Online Booking Portal, or your staff log into their Service App, you can see a real-time overview of your business via the fieldd CRM.
When situations change in the field you have full control to update, message and monitor the status of jobs as every action is tracked, so you can ensure your business always delivers the highest quality service.
Unlike other field service software that still requires you to leave the office, fieldd also collects up to 5 points of quality control automatically and alerts you of possible issues in the field.
The Complete Field Service Solution
Pricing for companies of all sizes
Frequently Asked Questions