The fieldd Software Help Guide
Browse our help guides below to quickly optimize fieldd for your mobile service business. Or, contact us using our live chat to learn more.
How do I create my services in fieldd?
The Service Designer is where you create your businesses service offerings. The Service Designer is a drag and drop workflow which allows you to build out your service categories and their subsequent services. These services contain a service time, travel buffer, price, description and quality controls customizable for each service. 
To start creating your service tree:
Drag a new service into the Service Designer
Connect the top of the new service to the blue anchor at the top of the page
Open the new service by double clicking it
Give the service a title
To add an image click on the image box

(we recommend and image size of 160 x160 pixels)

Add a description of the service or category

Toggle on if its a service or category

Close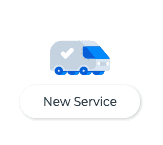 Drag a new service into the Service Designer
Connect the top of the new service to the category above it
Open the new service by double clicking it
Give the service a title
To add an image click on the image box

(we recommend and image size of 160 x160 pixels)

Add a description of the service 

Add a price

Add a travel and service time

Close
Save your changes by clicking the green save button in the action pane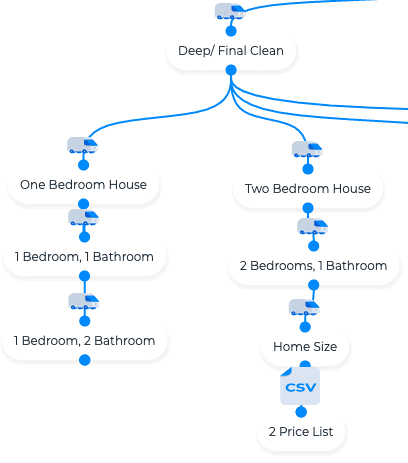 Understanding the Service Times?
Located in your Service Designer you have the ability to build out your service times and their travel time. You also can control the length of service the customer views on your Online Portal.
Travel Time is the buffer time of the appointment. If your service zone is a 30 minute travel radius then we suggest entering 30 minutes here to allow staff getting between their daily jobs.
Display Time. Do you wish to display your service time to your customers? If yes, toggle on and enter the length of the service.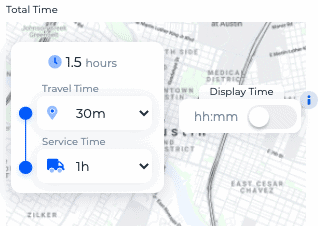 I want to have add on Services, where do I do this?
To create add-on services or up-sales to your service offerings, go into your CRM and head to the Products Tab.
Within this tab you can create inventory items, services add ons and upsells.
Here you have the option to add these items to be available online or within the Service App and service match to your Service Designer.

Service App Categories
Do you want your add-on to be sold online? Create a Title for your Online Portal Add-ons. For example "Recommended Add-ons"
Online Categories 
Do you want your add-on to be added within the Service App? Create a Title for your Service App Add-ons. For example "Service Add-ons"
Inventory
Here you create your list of add-ons, products and upsell items. You can customize each item to include a price, time element, service match to a particular service etc.
When you initially create your fieldd account we automatically create an operational zone to get you started. From here you can create your own Cities and operational zones based on physical addresses or by drawing on the map.
Understanding Territories:
There is no limit to the number of territories you can create within fieldd.
A City can have multiple working zones within it, these zones can be overlapped on the map to create intelligent operational routes to optimize your bookings as well as staff travel patterns.
Cities: The City tool is where you can assign your City, Town, State or Province's tax rates. For our customers operating an interstate or franchise business this feature is for you. Note that these locations can operate separately form one another.
Zones: The Zone tool is where you assign operational zones which determine your staff's working zones offered to your customers.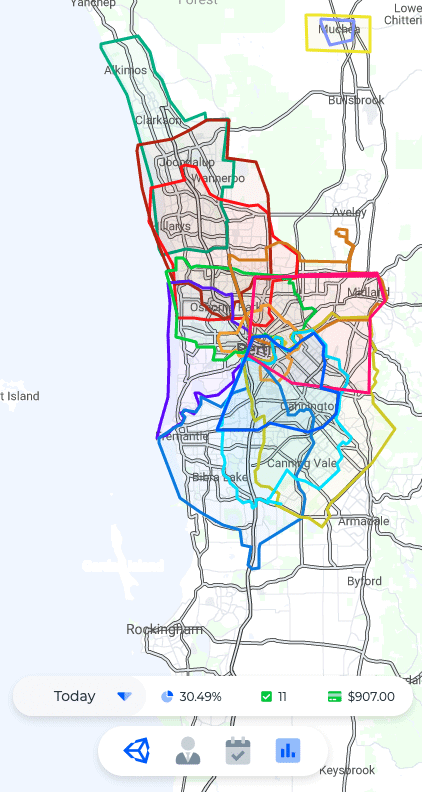 How to create a new City with Operational Zones?
Open the Territories Tab by navigating through the Settings button
Click on Territories icon and select the + button
The Territories control panel will open 
To create a new City click Add City
You will be prompted to enter a city by  searching the city and adding a tax or multiple tax rates (Ie GST and PST)
Save
Create an Zone for that City
Select either 'Smart Geo' or 'Custom'.
Smart Geo
Want to optimize your service zones? Smart Geo calculates a point to point zones which is calculated based on the travel distance entered.
This tool allows you to optimize your service areas into point to point routes ensuring your staff's bookings are maximized. 
Custom Geo
At an early stage of business or operating a new service area? The Custom tool allows you to draw your operational zones on the map with no time logic associated to it.
How to assign staff to an operational zone
Click the field staff icon on the left hand navigation bar
Open your field staff
Click the (i) next to the staff members name to open their staff card
Go to the Setup Tab
Ensure you have added a City and a Zone 
Save
You can also allow staff to operate over multiple zones, to do this follow the instructions below.
Toggle "One Zone' off
Multi zones will appear 
Choose which city and zone your staff member works on which day of the week
Save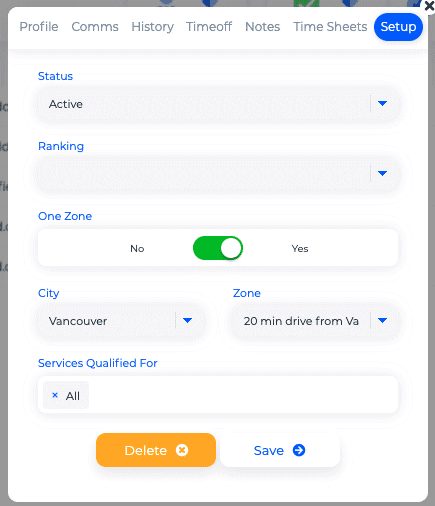 To view your jobs, add jobs, edit services and view important job information navigate to the schedule tab which is located in your left hand panel.
Viewing your schedule
The grid view will display all of your jobs within the selected date range. You will see the job status, live ratings, and job details from this view

To open the job card click on the blue (i) on the left hand side of the schedule screen. This will open the job card to display more in depth information as well as tools to edit the service.
From this view you will be able to
View more in-depth service information
Override the job status 
Change the location of the job
Re-assign the job to another available staff member
Reschedule the job
Edit the service
Also having access to the tracking details. Including distance traveled, email confirmation read receipts, Quality control photos, live chat, update and resend billing information, and add job notes.


How to reschedule or reallocate a job?
From the job card click the Reschedule button.
This can also be used to reallocate the job to another staff member.
Click on the Reschedule button
You will be shown your current zone by default. Here you can select the date you wish to reschedule or reallocate your job to and your available staff members in green.
To reschedule the service to any staff member outside of you service zone click the "All Zones" button. All of your available staff will appear here from ALL  zones.
Select the time to turn the slot blue
Navigate through the notification options
Add a rescheduling reason and proceed to the Reschedule Job button.

Recurring – How does it work?
To add a recurring service follow the below steps:
Go to the Schedule Tab
Click the add job button
Click 'Repeat'
Add a new recurring job
Fill out the required customer fields, job information, build the frequency and start date.
Once saved, the job will appear within your schedule on the start day as a "Requested" job
This job can then be assigned to a staff member by opening the job card
You will see that the job has no staff allocated to it
Click the Reschedule button
From here select the zones time slot as appropriate
Chose if the customer is notified of the booking
Save
Go back to your schedule
This job will now be sitting as 'accepted' 
The job flow continues as normal 
How to connect my Online Booking Page with my website
Your fieldd Online Bookings page can be connected to your website by either dedicated landing page or iframe.
You can also custom your subdomain for your Online Booking page. To do so go to your domain manager and open your DNS settings. Add a CNAME and add a Host name (eg "book"). Once created point the host name to verify.fieldd.co.
Note, before clicking next you will need to wait 5-10 minutes for your new CNAME to update.
To find where to naviagte to your online Booking settings follow the below steps:
Settings> Branding> Online Bookings
How to create Online Booking questions
Need to attain a list, a photo or access instructions from your customer at the time of booking?
By adding Online Booking questions you can create lists, file uploads and text entry fields for your customers to complete. Chose if these are compulsory or voluntary.
To add booking questions go to your CRM Booking Config Settings and build as required.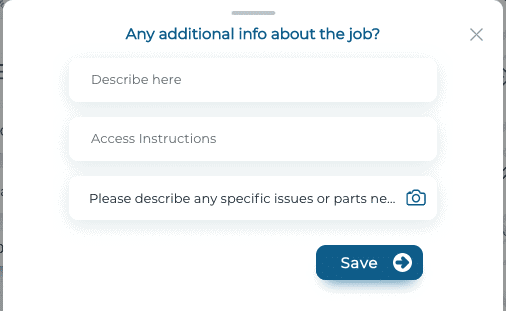 Want to add a compulsory prepayment? Want to chose if its a percentage downpayment or a set amount? 
Simply connect a payment gateway and turn on prepayments and customize to suit.
To connect with a payment gateway, navigate to your Payment Methods and connect your account to fieldd. From here go to your Booking Config and open Advanced Options. Here you will be able to customize your prepayments. 
T&C's setup is located within your CRM> Booking Config> Main Text.
Simply save and refresh your Online Booking page to reflect your new changes.
fieldd offers your customers the slots which will allow for a

maximised

day. If you are wanting to book a job at any time we suggest to use the custom job add from the CRM.
Automated slots appear in the availability windows so your customers don't book a service in the middle of your day, meaning you miss out on other services which would otherwise fit.
Other solutions allow customers to book whenever they want and regularly jobs need to be moved around to maximise the businesses day and fit in other services.
An example to demonstrate this is below:
Company Hours 10am – 7pm
1 hour lunch break 12pm – 1pm
A 2 hour service – First available booking is 10am, then 1pm (Taking the lunch break into consideration)
A 4 hour service – First available 10am then next available appointment would be 3pm 

(Taking the lunch break into consideration)
Want to learn how to navigate through the Service App?
Want a guide for your field staff? Find the Service App Field staff and Admin staff guide below.
I Can't Login to the Service App
Don't panic! There are some simple places to check to determine why you are unable to get into the Service App.
The first place to check is which user login's you have. To do so go to your CRM and check the Staff and Admin Tab. 
Check 1) If you are Superadmin your logins to the CRM are the same as the Service App.
Check 2) If you are a fieldd Admin you will need to add yourself as a field staff member. To do so simply click into the field staff tab and add yourself as a user. A link to download the app will be emailed to you and on first login enter your email and create your password.
Check 3) Check the deactivated staff.
Check 4) Forgotten your password? Click the forgot password prompt and enter the verification code fieldd will email you. Then proceed to create a new password.
To turn on QA Photos, do so by navigating to your Service Designer. Open the service and turn on Quality Control Photos either before or after or both. Select how many photos you need to take and upload any template photos you would like. Close and Save.
If you are unable to take photos in your Service App it is due to declining fieldd permissions on first login to the app. To resolve this either go into your phone settings or delete and re download the app and select allow for both location and photo permissions. 
Having trouble starting your jobs in the Service App?
To start your scheduled jobs open your Service App from here follow the below steps to access and complete your jobs:
Navigate to the Dispatch Tab
Open Schedule
Here you will see jobs for Today, tomorrow and later
Any jobs within our today display can be started. Note you are able to view your future bookings by clicking 'start' but cannot start those services until the date they are booked in.
Once your first job has been started proceed to click en-route to notify your customer you are on your way
Proceed through the job status's by pressing and holding the action bar at the bottom of your screen
Once any on the job QA photos or checklists have been completed fieldd will pull through the job information into the POS
Close out the job through your payment methods to finish the job
Navigate to your Dispatch Tab to repeat for your next service
Fact: The action button is a press and hold function from years worth of feedback in the field. Stopping your staff from accidentally knocking it in their pockets!
What is the Customer App?
Great question! fieldd offers a whitelabel Customer App as an addition to your fieldd account.
To learn more about the app take a look at our Customer App page or contact your relationships manager for details.
Where can I order the Customer App?
Your Customer App is controlled by you. You have the power to make branding changes you require instantly from the fieldd CRM.
This is also where you will order the Customer App and manage your app payment information. It is important to note that all your existing CRM settings will reflect in the app, your service offerings and general setup information will flow here just like it does to your Online Booking Portal. 
How to start the Customer App process?
To learn how to get started with your Customer App open your fieldd CRM> Settings> Branding> Customer App
Here you will find the Customer App brochure, the launch guide and where to purchase the app.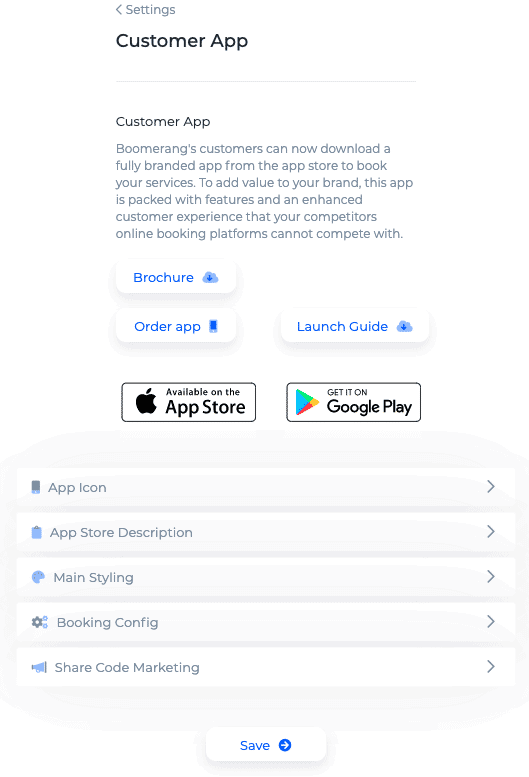 On-demand vs Appointment Scheduling 
Whether your considering an On-demand style business or just want to know what the difference, check out our advice below
Many customers come to us wanting to be the "Uber of x". What we have learnt is that On-demand is excellent for businesses which have hundred of staff who are available 24/7, with an average duration of a job being 30 minutes or less.
Can your current staff keep up with and respond to customer requests? 
Would you wait a day to hear back from a business before looking elsewhere?
Appointment Scheduling is our recommended scheduling type for most mobile businesses. Harnessing automated scheduling allows you to optimize your daily booking capacity, arrival time accuracy and instantly allow customers to book with out hesitation.
View both Appointment Scheduling and On-demand within the fieldd CRM and compare whats best for your mobile business.
I have created my zones but I can't book a job
Without assigning staff to an operational zone your customers will be unable to book your services.
To assign staff to an operational zone please read How to assign staff to an operational zone.
How to search for what I need in my CRM
Can't find a setting or looking for a particular piece of information? No worries, our search function allows you to find on the page results or other results relating to your question. Simply click the search button on the right hand corner and start to type.
From here either click page search or scroll through all functions related to your search.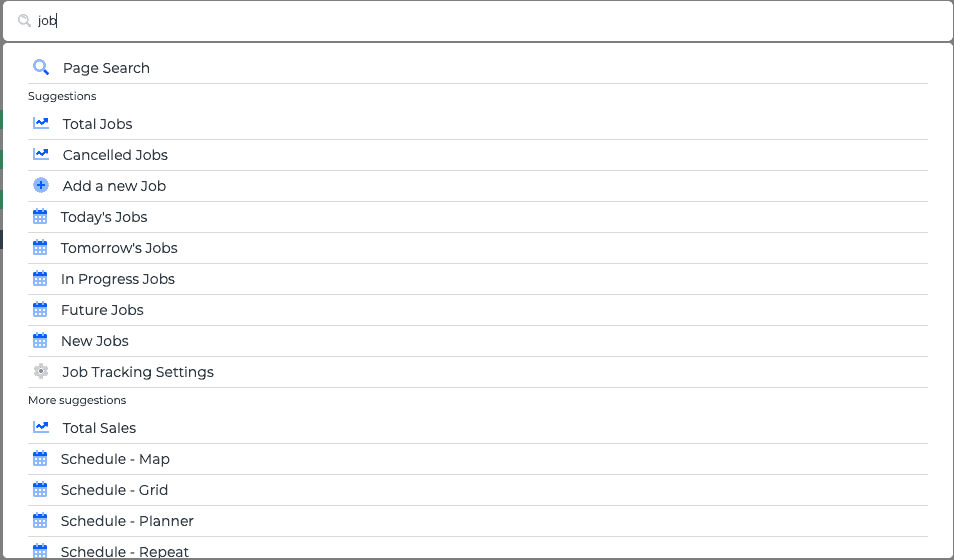 How to access your walkthrough
To access your walkthrough simply click the ? icon in the right hand corner of your CRM. You will also find a link to help pages, contact support and logout from here.
How are your monthly jobs calculated?
Great question! fieldd marks a booked job as a job toward your monthly job number. 
What if I have 3 services in each job, does this count as three jobs? No! What services you complete within a job is up to you, having multiple services within a job will not change your job total.
My customer cancelled their job does this count towards my job number? Yes it does, a job is marked at the time of booking.
If I leave my jobs marked as 'accepted' will these count towards my monthly job number? Once the job is booked this will count towards your monthly job number. We advise to use the full functionality of fieldd and progress through the jobs so your customers and you can fully benefit from the platform!
Time Off & Setting Schedules
Your company hours is your businesses master schedule. Time off is managed separately, and will be explained in this section.
To start are your staff Contractors or Employees?
Contractors:
Do your staff set their schedules off your master schedule? 
Are they responsible for setting their availability?
Contractors will set their schedule from their Service App. This is further explained in the next section below.
Employees:
Are your staff's hours set from your master schedule? 
Are you responsible for their time-off?
Employees schedules are set from your Company Hours. Time-off is managed from the CRM. This will be explored further below.
Contractors from within their Service App navigate to their calendar. From here they will see two tabs, Time-off and Schedule.
For first time setup start with their Schedule.
Here they will see the company hours open in green. This means they are open to be booked for all of the displayed times. If the contractor does not work Fridays for example, they will click the toggle on Friday to mark the entire day red.
This means they are permanently off this day of the week.
If they want to mark certain times off, such as a permeant start time simply select the slots which they will not work to mark them as red.
Ensure the update button is pressed at the bottom of the screen, the contractors hours are now set.
The Time-off Tab.
Here your Contractor will see a calendar image, to mark temporary time off simply select the day by clicking the date once highlighted the time-slots will show here. To scroll move the bar left to right. To temporarily mark a time off select the time to turn it orange. This means this instance is now unavailable. To permanently mark this time off please follow the steps above in the schedule tab.
By default fieldd will behave as if you have contractors when setting schedules. If you have employees follow the below steps to remove their ability in setting their own hours:
Open settings
Booking Config
Open the Service App accordion
Scroll down to "Disable Staff Calendar"
Toggle on
Save 
When setting up new employees their schedule will be as the company hours dictates. For example your company hours are 9am-5pm this will be the same for your staff. Admin will manage staff time off through the CRM. 
To manage staff availability:
First navigate to the field staff tab. 
Click on the (i) next to the relevant staff member you wish to edit their availability for
Navigate to the Timeoff tab
Select the date you wish to edit
To mark a staff member as temporarily off select the green slot to turn it orange
Scroll down the page and click update
This has now made your staff member unavailable to be booked on this date and time.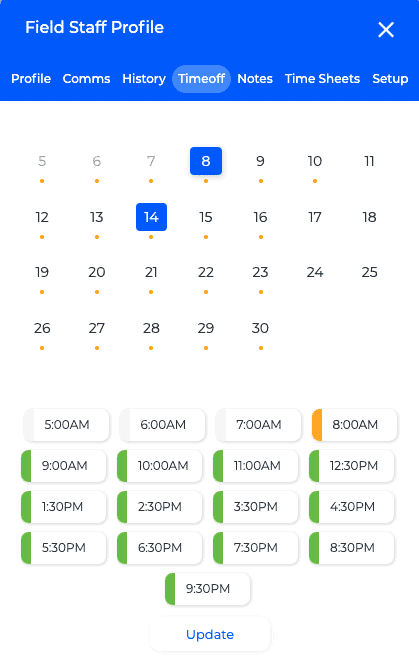 Understanding Slot Colours
Staff can view a colour key within their app by clicking on the (i) button on their calendar page. 
For Admin staff please view the key below: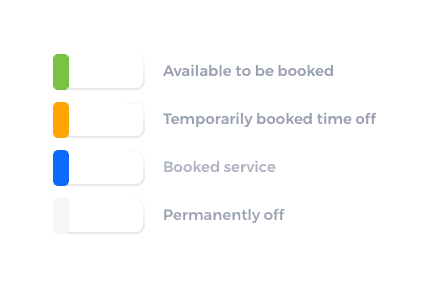 Customers are unable to book when the slots are displaying anything other than green "Available to be booked".
Taking payments through fieldd
When setting up your fieldd account you have the ability to link your account to a payment gateway of choice to start taking card payments through fieldd's Online Portal, Service App, CRM and Customer App.
By connecting with a payment gateway (Stripe, Square, Checkout.com or Pin Payments) you are able to start customizing your card payments. Once connected to your payment gateway you are able to turn on pre-payments.
Pre-payments can be used to collect a set %, fixed, or full amount of your services. The customers card information is processed through your payment gateway and pulled through the service to the point of sale within the Service App. Here it can be charged at the end of the job for the reminding balance or switched out to a new payment method of the customers choosing.
Can my customers store their payment details on file? Yes, with the Online Portal and Customer App customers can choose to create an account. Here they can securely store their payment methods and update them as they need. 
My staff forgot to charge the customer at the job, can I take a payment through the CRM? Yes, go into the job card and open the 'Billing' tab. Here you will be able to take payment for the service and send an invoice or receipt to your customer.
My customer has lost their invoice, can I resend it? Yes, as above open the job card and go to the 'Billing' tab and resend their invoice or receipt. You can also do this from within the Customers profile by navigating to the "History' tab within the customer card and opening the job. Finally, all invoices can be managed from the Invoice tab which is located in your Analytics.
My customers are trying to pay with an Amex and it wont go through? You will need to check your payment gateway setup (Stripe, Square, Checkout.com or Pin Payments) and ensure you are accepting Amex cards.
Can I use fieldd with my credit card hardware? Say goodbye for the need of expensive and bulky hardware contracts! The fieldd Service App is an inbuilt POS. Which can process card transactions, cash recording, invoicing and quoting all from the phone. If you are currently using a machine to take payments in the field we strongly suggest using the fieldd loop for easy and live syncing payment reconciliation (This is what we do!)
Couldn't find what you are looking for?

Not to worry!
Our website chat allows you to ask any further questions you may have or contact your fieldd relationships manger.
Let's get you back to business